Sam Weller & Sons Ltd. is one of the leading decatising wrapper manufacturers in the world. The company was founded in 1911, and for more than three quarters of a century it has worked with the cloth finishing industry, providing an unrivalled knowledge in the manufacture and application of decatising wrappers.
Famous worldwide for their quality and dependability Weller also specialise in weaving high pick density Cotton fabrics, in weights ranging from 70 – 950gsm, for a wide variety of applications.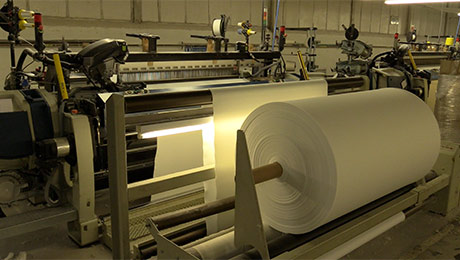 With success came increased production and this meant more dust creation so Sam Weller needed to increase their vacuum cleaning capacity in order to maintain a pristine factory environment enabling efficient operation. Wieland's track-record of providing world-leading portable vacuum units which can be flexibly deployed across the factory quickly made the decision for Sam Weller.
The IS56T is a 5.5kW machine specifically designed for the textile industry. Built for continual use, its unique system for compacting suction material means less requirement for hop emptying whilst the material is automatically bagged in the hopper ready for onward transportation.
ESL is the sole distributor of Wieland, the world-leading industrial dust extraction systems and industrial vacuum system manufacturer based in Germany.
Paul Townend, Sam Weller Weaving Manager said : 'Our previous experience of Wieland vacuum units was very positive. The new specialist textile vacuum unit was ideal for our needs – portable, flexible , powerful and effective'.