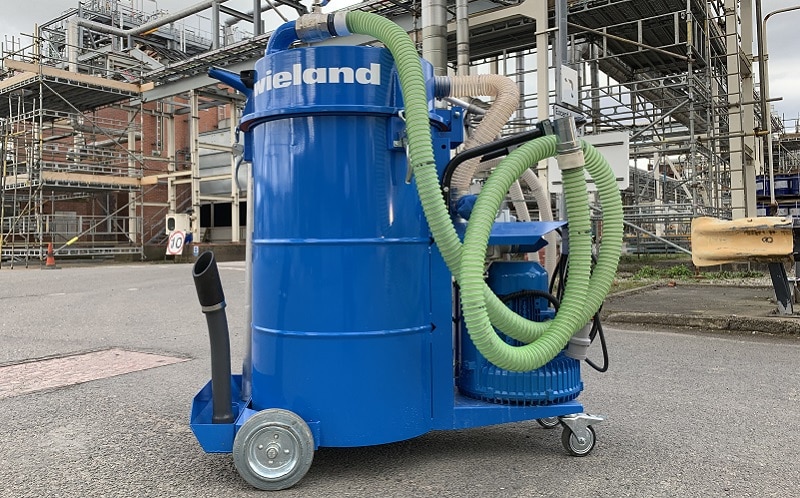 Technology Harnessed for the Ultimate in Performance and Reliability
Advanced technology coupled to unbeatable German design and build quality delivers machinery and equipment unmatched in terms of quality and function. Wieland lead the way in the manufacturing of high powered industrial vacuum systems and set the standard for reliability and performance. We back that up with an unbeatable 2 year warranty.
Wieland are designed to meet your requirements every time – ensuring compliance to stringent legal H&S requirements for your operations; delivering cost savings through automated cleaning and maintenance; increasing yields by recycling expensive materials.
Our comprehensive Wieland collection offers an industrial vacuum cleaner to meet your needs. If you are looking for a machine that can clean everything up with ease, look no further. Our Wieland machines are ideal to clean up dry waste including dust, grit, sand and granules or a combination of dry waste and liquid or liquid only.
Wieland industrial vacuum systems have been designed with safety in mind. ATEX and ADR approval make Wieland machines the perfect solution for environments which are potentially volatile and areas with hazardous dust and fumes.
We offer tailor-made solutions for specialist applications as well as a complete range of consummables to customize our standard machinery and equipment for every application to get the best out of your Wieland.
We're proud to exclusively partner with Wieland in the UK. We offer a free site survey to discuss your exact requirements and always offer a no obligation demonstration to ensure that the Wieland model is perfect for your project needs.
Please navigate the left hand side menu to view our extensive range with solutions for all budgets and requirements and click on the video button to see our machines in action. Contact us on 01543 449259 or email info@ecoblastsupplies.co.uk to arrange a free site visit and let us demonstrate the power of Wieland.
LATEST NEWS
Dustless Blasting Twice as Fast
Dustless blasting but twice as fast! This short video demonstrates the latest dustless blasting innovation from German market leaders Torbo using two hoses on one machine to reduce costs and save time.
COSHH Legislation Get Compliant
Are you ensuring that breathing-air quality is correctly tested on site before use of the breathing air supply equipment when using mobile compressors for air supply?