Dry Ice Production & Dry Ice Blasting
ESL are proud to exclusively distribute dry ice machines in the UK from global leading specialists ASCO. This Swiss precision engineered technology provides innovative solutions to offer the most advanced dry ice production systems and dry ice blasting machines in the world today.
We offer machines for dry ice production, packaging and storage and distribution as well as a comprehensive range of portable dry ice blasters.

Dry Ice Production
Create your own dry ice production factory. ASCO dry ice machines convert liquid CO2 quickly and economically into dry ice. This technology produces the exact amount of dry ice on-site up to -80°C and fills it automatically into storage and transportation boxes. All ASCO dry ice pelletizers are available with a selection of extrusion plates to make different sized pellets. ESL offer ASCO dry ice production machines for all requirements and budgets from compact to large pelletizers.
Benefits of ASCO Dry Ice Production
ASCO dry ice production machines allows you to produce the right quantity of dry ice at the right time for maximum flexibility and for remarkable cost savings
Less wastage producing dry ice than buying dry ice
The ultimate cooling capability with three times the power of standard ice
Dry ice is non-toxic, colorless, odorless, and tasteless
Cool and Cold-Chain legal compliance
ASCO Gas Revert Recovery System designed to recover a conversion rate of 90-95% of CO2 reducing wastage up to 50% which may otherwise be lost to the atmosphere
Rapid quick start up to reduce downtime and loss of valuable CO2
Selected ASCO dry ice machines feature internet-connectivity using world-leading Siemens technology which allows remote monitoring to enable optimum performance and availability at all times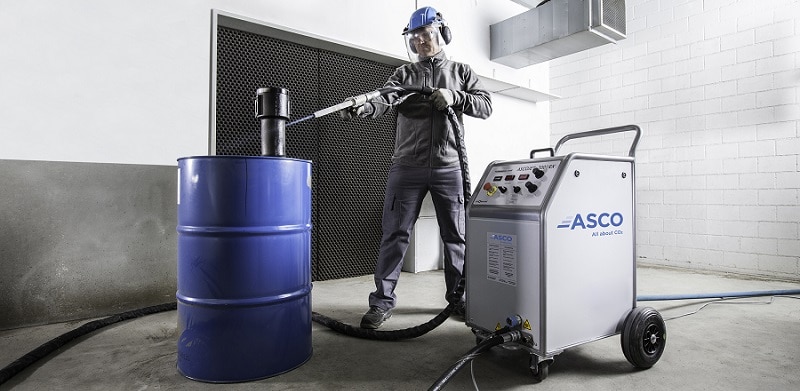 Dry Ice Blasting
Dry ice blasting is an environmentally friendly alternative to traditional sandblasting. ASCO dry ice blasting machines are precision engineered using the latest Swiss technology for powerful and reliable high performance.
Benefits of ASCO Dry Ice Blasting
Extremely gentle and powerful cleaning of surfaces
Non-abrasive blasting that will not harm substrates and surfaces
Considerably reduces downtime for fast and effective cleaning
Cleans equipment without cooldown and disassembly for increased efficiencies
Environmentally friendly cleaning with no additional chemicals or spray agents
No harmful substances used in dry ice blasting with no risk to employees
Blasting leaves no residues. Dry ice sublimates completely into C02

Explore Our Range
Please navigate the menu to view all of our ASCO dry ice machines and accessories and click on the video button to see them in action. Click here to watch the video of one of our impressive dry ice pelletizer installations https://tinyurl.com/y4tv2w6n
Contact us on 01543 449259 or email info@ecoblastsupplies.co.uk to arrange a free site visit or demonstration.
LATEST NEWS
ASCO P55i New Product Launch
The all-new ASCO Dry Ice Pelletizer P55i is now available from ESL with capabilities to produce either two identical or two different sized pellets sizes simultaneously.
Dry Ice Pelletizer Installation
This short video shows our vacuum sealed pipework running from a liquid C02 tank to connect to the ASCO P28i Pelletizer to produce up to 280kg of dry ice per hour.