Portable Dustless Blasting Units
Our Torbo portable dustless blasting units are made to blast and built to last. These technically advanced machines are versatile and can be transported with ease to strip rust, paint, mold and other unwanted deposits on a variety of surfaces. Our portable blasting machines are hard on dirt and gentle on the surface. The compact Softline is the smallest blasting unit and the specialist for delicate work while the M and L Series are the perfect all-rounders featuring excellent versatility. The Torbo XL series can tackle any task when more is needed and the Torbo XLS is the powerhouse for truly tough jobs.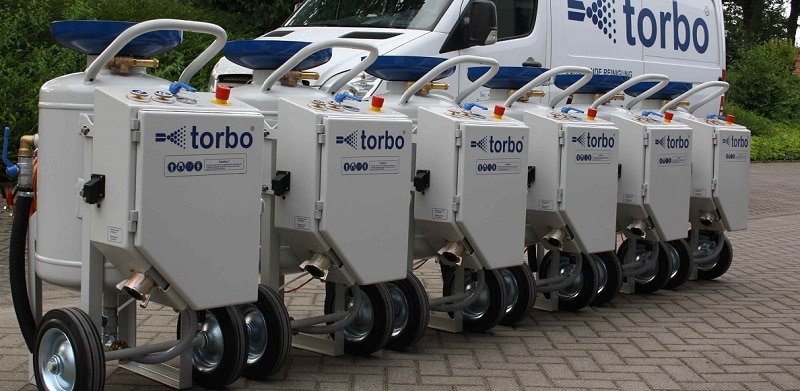 TORBO SOFTLINE XS & SOFTLINE S
The Torbo Softline 60 is a small mobile device for simple and effective, gentle cleaning of monuments and facades.
It requires no extra dehumidifier, no extra water hose to the jet nozzle and no heavy or expensive jet nozzle. Thanks to the control system, the blast abrasive mixture (80% blasting abrasive and 20% water) and extra water is metered out irrespective of compressed air, so that you can adjust the parameters independently of each other.
TORBO M80 & L120
The Torbo M80 and L120 are machines that are small enough to be moved around with relative ease but powerful enough to remove all types of residue, paint and layers of rust, asbestos, artex and graffiti. The M80 will give more than an hour trouble free blasting before the tank will need re filling and the L120 offers up to 2 hours of blasting time before re-filling.
TORBO XL240 & XL320
The Torbo system XL240 and XL320 are specialist products for large surfaces. They make concrete and steel cleanup processes much easier and are very cost-effective.
Due to their large tank volume only 2 to 4 tank fillings are required each day. These systems, specially designed for professional operations, distinguish themselves above all in industrial usage.
Superior products for large-scale applications with the minimum of tank fillings per day to ensure high levels of productivity. Suitable for use at heights.
TORBO XLS240 & XLS320
Our biggest units have sufficient power reserves for every kind of cleanup treatment. The Torbo systems XLS240 and XLS320 show their strengths in the most difficult situations. With no trouble at all it can deal with the removal of concrete sludge, the stripping of old coats of paint and the deburring and descaling of metals, as well as the removal of layers of oxidation on steel. You can work without problems even at differences in height of up to 250 m.
With our XL-system you not only work with surprising flexibility and effectively, but also very economically.