Mobile Dustless Blasting Systems
Mobile performance in a class of its own. The TorboCar series is available in different versions according to your needs with the shortest set-up times, complete mobility and high productivity. The AC30/AC50 are the smallest series models and the first choice for sensitive surfaces including graffiti removal, façade cleaning and monument preservation. The large series AC76 and AC84 models and the perfect choice for rough work. Special versions of the Torbocar are also available upon request to bespoke to your exact requirements.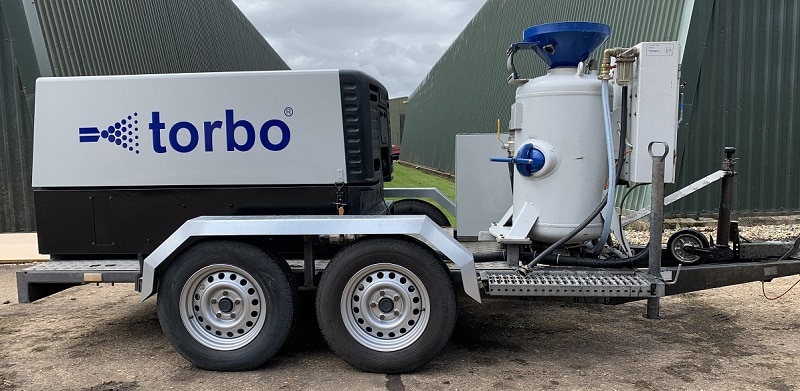 TORBOCAR S & TORBOCAR M - The ultimate in Flexibility
The Torbocar S and Torbocar M are single-axle complete units'. Great mobility is coupled with the convenience of an integrated Torbo Blasting System and compressor on a robust trailer platform. Ideal for jobs in a confined space where high performance, speed and efficiency cannot be compromised.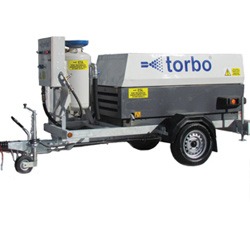 TORBOCAR AC30 - The all-in-one
The Torbocar AC30 cleans even sensitive surfaces thoroughly, leaving behind shining results when other blast cleaning machines would have long given up.
TORBOCAR AC50 - The all rounder
The Torbocar AC50 with Torbo M80 or L120 is the unit for all-round operation. The range of application extends from the careful cleaning of sensitive surfaces to concrete and steel clean-ups.
TORBOCAR AC76 - The challenger
The Torbocar AC76 with Torbo LX240 is a highly productive machine for large-scale applications – it accepts any challenge and makes cleaning of surfaces from facades to concrete quick and easy. Due to its large tank volume only 1 to 4 tank fillings are required each day.
TORBOCAR AC84 - The ultimate performer
The Torbocar AC84 with Torbo XLS320 is the ultimate in dustless blasting equipment and shows its huge strength in the most difficult of situations.
Latest News
New ASCO Dry Ice Reformer A700Ri
The new and improved ASCO dry ice reformer A700Ri is available now to order from ESL. Make dry ice blocks out of dry ice pellets!
ASCO Q&A Chat
Find out about ESL's relationship with ASCO, the current UK dry ice market and latest trends in this Q&A feature.